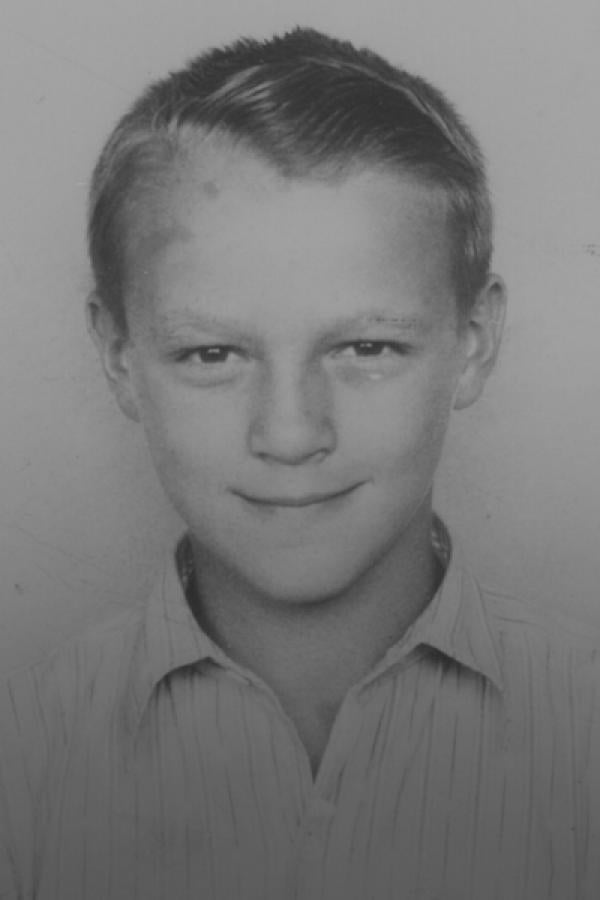 Arnold Palmer was many things to many people...world famous golf immortal and sportsman, highly-successful business executive, prominent advertising spokesman, skilled aviator, talented golf course designer and consultant, devoted family patriarch and a man with a down-to-earth common touch that made him one of the most popular and accessible public figures in history.
His popularity and success grew with the tremendous golf boom in the latter half of the 20th Century to heights few ever anticipated and they have been recognized in countless ways over the years. Certainly each contributed to the other, a fact given recognition when he was named "Athlete of the Decade" for the 1960s in a national Associated Press poll. Before, during and after that great decade, the famous golfer amassed 92 championships in professional competition of national or international stature. Sixty-two of the victories came on the U.S. PGA Tour, starting with the 1955 Canadian Open.
Besides the magnificent performance record, his magnetic personality and unfailing sense of kindness and thoughtfulness to everybody with whom he comes in contact have endeared him to millions throughout the world and led to the informal formation of the largest non-uniformed "military" organization in existence -- Arnie's Army. Seven of his victories came in what the golfing world considers the four major professional championships. He won the Masters Tournament four times, in 1958, 1960, 1962 and 1964; the U.S. Open in spectacular fashion in 1960 at Cherry Hills Country Club in Denver and the British Open in 1961 and 1962. He came from seven strokes off the pace in the final round in that U.S. Open win and finished second in four other Opens after that. Among the majors, only the PGA Championship eluded him. He finished second in the PGA three times.
Arnie's springboard to professional fame and fortune was his victory in the U.S. Amateur Championship in 1954. He turned professional a few months later. His hottest period was a four-year stretch from 1960 to 1963 when he landed 29 of his titles and collected almost $400,000 at a time when the purses were minute by today's standards. He was the leading money-winner in three of those years and twice represented the U.S. in the prestigious Ryder Cup Match during that time, serving in 1963 as the victorious captain.
It was also during this period that his rapidly-growing business interests got their start, through the impetus of Palmer himself and with the guidance and efforts of his business manager, the late Mark McCormack, and his wide-ranging organization. Arnold was president of Arnold Palmer Enterprises, a multi-division structure encompassing much of his global commercial activity. He was involved in automobile and aviation service firms over the years and was the principal owner of a car dealership in his Latrobe (PA) hometown.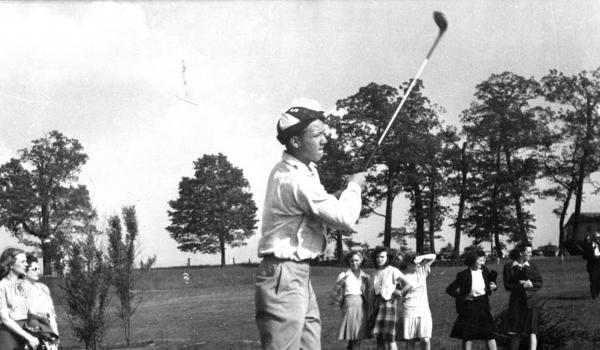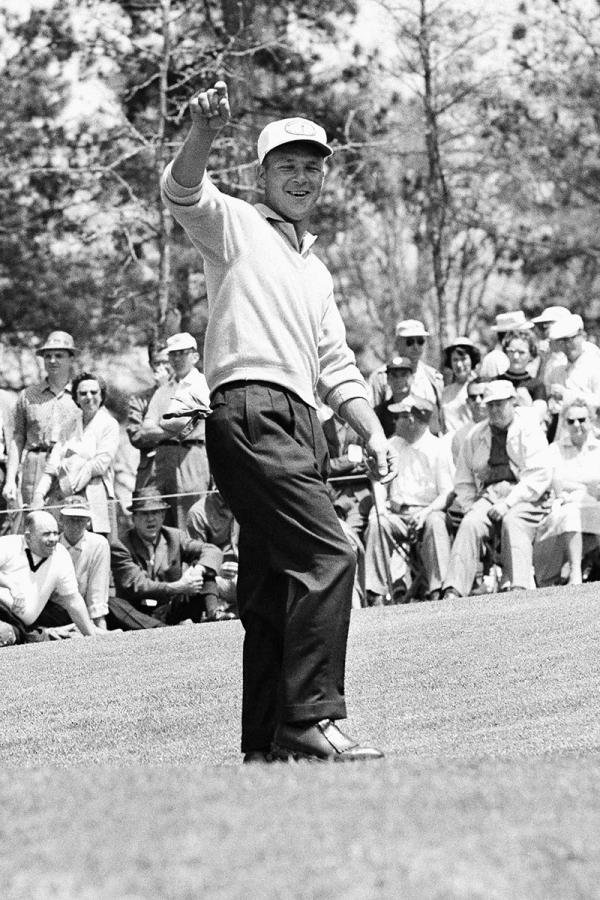 Arnold was president and sole owner (since 1971) of Latrobe Country Club and president and principal owner of the Bay Hill Club and Lodge, Orlando, FL, which he and a group of associates acquired in 1970. Bay Hill hosts the annual Arnold Palmer Invitational Presented by MasterCard, on the PGA Tour. In 1999, Arnold and a group of investors purchased the famed Pebble Beach golf complex on the California coast. He was also a tournament professional and member of the board of directors of Laurel Valley Golf Club, Ligonier, PA, with which he has been affiliated since its founding in the late 1950s.
Palmer was consultant to Golf Channel in Orlando, which went on the air on cable networks in January, 1995. Another important facet of his activities involved the Arnold Palmer Design Company, which continues to thrive headquartered at the Bay Hill Club. Since the mid-1960s, Palmer put his stamp on about 300 new courses throughout the nation and world. His modest business empire and golfing activities kept Palmer on the move much of the year, most of the travel in his Cessna Citation X jet aircraft. He was recognized in 1999 for his contributions to aviation and his Western Pennsylvania community when the Westmoreland County Airport at Latrobe was renamed the Arnold Palmer Regional Airport. He was a member of the Westmoreland County Airport Authority.
Palmer was born on September 10, 1929, in Latrobe, a small industrial town in Western Pennsylvania at the foothills of the Allegheny Mountains some 50 miles east of Pittsburgh. He lived there during the warm months of the year, but spent the fall and winter months at his homes at Bay Hill and at the Tradition Golf Club in La Quinta, California. He had numerous active and honorary memberships in clubs throughout the world, including famed Augusta National in Georgia, St. Andrews in Scotland, Pine Valley in New Jersey, Winged Foot in New York and Oakmont in Pittsburgh.
The golfing great was the recipient of countless honors, the symbolic plaques, trophies and citations scattered throughout his personal, club and business worlds, the epitome coming when he received the Presidential Medal of Freedom from President George W. Bush in 2004 and the Congressional Gold Medal, passed by Congress and signed by President Obama in 2009. He has received virtually every national award in golf and after his great 1960 season both the Hickok Professional Athlete of the Year and Sports Illustrated's Sportsman of the Year trophies. He was a charter member of the World Golf Hall of Fame and a member of the American Golf Hall of Fame at Foxburg, PA, and the PGA Hall of Fame in Florida. He was chairman of the USGA Members Program and served as honorary national chairman of the March of Dimes Birth Defects Foundation for 20 years. He played a major role in the fund-raising drive in the 1980s that led to the creation of the Arnold Palmer Hospital for Children and Women and subsequently the Arnold Palmer Medical Center in Orlando. A long-time member of the board of directors of Latrobe Area Hospital, he staged a major annual fund-raising golf event for that institution for six years that led to the formation of the Latrobe Area Hospital Charitable Foundation.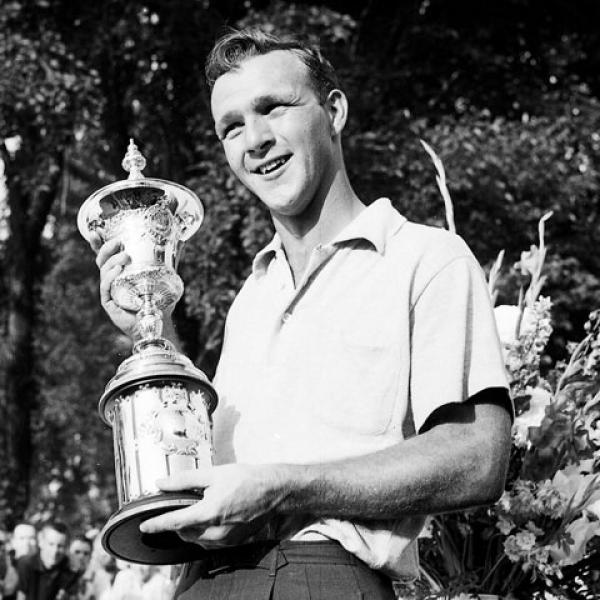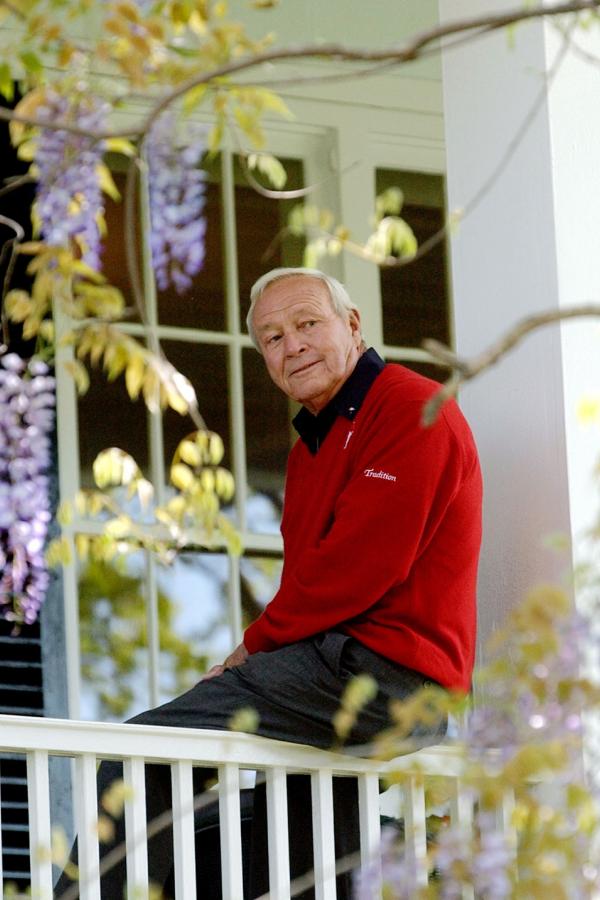 The saga of Arnold Palmer began when he was four years old, swinging his first set of golf clubs, cut down by his father, Milfred J. (Deacon) Palmer, who worked at Latrobe Country Club from 1921 until his death in 1976, much of that time as both golf professional and course superintendent. Before long, Arnie was playing well enough to beat the older caddies at the club. He began caddying himself when he was 11 and worked at almost every job at the club in later years.
The strongly-built young man concentrated on golf in high school, soon was dominating the game in Western Pennsylvania and twice won the Pennsylvania high school championship. He won his first of five West Penn Amateur Championships when he was 17, competed successfully in national junior events and went to Wake Forest University (then College), where he became No. 1 man on the golf team and one of the leading collegiate players of that time. Deeply affected by the death in an auto accident of his close friend and classmate, Bud Worsham, younger brother of 1947 U.S. Open Champion Lew Worsham, Arnold withdrew from college during his senior year and began a three-year hitch in the Coast Guard. His interest in golf rekindled while he was stationed in Cleveland. He was working there as a salesman and playing amateur golf after his discharge from the service and brief return to Wake Forest when he won the U.S. Amateur in 1954 following his second straight victory in the Ohio Amateur earlier that summer.
It was during that period that he met Winifred Walzer at a tournament in Eastern Pennsylvania. They were married shortly after he turned professional in the fall of 1954 and Winnie traveled with him when he joined the pro tour in early 1955. Mrs. Palmer died of cancer on November 20, 1999. Mr. Palmer and his second wife, Kathleen (Kit) Gawthrop, were married in a private ceremony in Hawaii on January 26, 2005. He underwent successful prostate cancer surgery in 1997 and became a strong advocate of programs supporting cancer research and early detection.
The Palmer family consists of two daughters -- Peggy Palmer Wears and
Amy Palmer Saunders, who with husband Roy, oversees operations at the Bay Hill Club and Latrobe Country Club; four granddaughters, two grandsons and nine great grandchildren. Mr. Palmer's second wife has three children – son Al Gawthrop III and daughters Lynn Bouck and Blair Miller, all living in the Denver area – and eight grandchildren. Arnold's brother, Jerry, who succeeded their father as course superintendent at Latrobe CC, was general manager for many years and was a member of his personal office staff, and sisters, Lois Jean Tilley and Sandra Sarni, live in their home area in Western Pennsylvania. Their mother, Doris, passed away in 1979 after a long, brave battle against crippling arthritis.